When we started our business, we wanted to treat our customers the way we would want to be treated. Over the years we have heard horror stories from some of our customers. 
By listening to what our customers want, we decided to do things differently, and we hope you feel that is good!
Though we are based out of Mason City, our customer base reaches far and wide across the United States.
We've handled projects of all sizes. We built the website for the one person companies like the one that put the tile around Kevin's fireplace, and we also built the website for the National Weather Association.
Our client base includes multiple television stations across the United States, and it also includes multiple small businesses throughout North Iowa.
What we are getting at is that we can handle projects big and small. Delivering exceptional work to meet the needs of ALL our customers.
We aren't here for your entire budget. If all you're looking for is a life jacket, we're not going to try to sell you a houseboat.
One thing you'll hear from us time and again:
We want you to be a customer because you want to, not because you have to!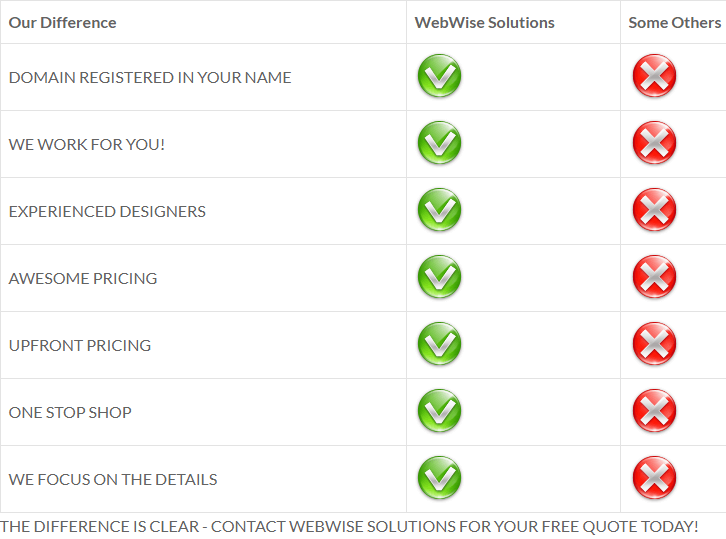 You own the domain, and you own the finished work.

A company with a nationwide customer base that charges Midwest prices.

No contracts required. We want you to be a customer because you want to, not because you have to.

Experience like no other. Our senior partner has been building websites since before most of us even had a home computer!

When you check us out compared to the competition, you'll find that the choice is obvious. WebWise has the Solutions you're looking for!
Company founder. More than two decades of website experience. Former TV Chief Meteorologist and storm chaser. Would gladly live at Disney World.
Site Designer. Co-owner. Multiple corgi owner. Usually mistaken for Adam on the phone.
Who's a good boy? Yes, yes he is. Mascot. Corgi. Adorable.
WebWise Solutions  has always been a company that changed and adapted to new technologies and new times.
The company has moved through three distinct phases.  We  started off under the name of Weather Edge in 1996 with one employee:  founder Adam Frederick. Back then the company was meant to be a weather forecasting and website design company. The business quickly grew, shed its weather forecasting aspect, and focused on website design and hosting.
The name Weather Edge no longer fit the primary purpose of the business so the new name, WebWise Websites Inc. was established when the business incorporated in 2009.
Since 2009, WebWise Websites has continued to grow quickly and the services we offer have increased even quicker. With the extra business and services, WebWise created strategic partnerships with various providers that have the same goal of high quality services at affordable rates.
The company entered its current phase in 2013, bringing aboard co-owner Kevin Petty. We moved into our new offices in the historic Brick and Tile building in Mason City.  Our expanding services led us to rebrand the company: WebWise Solutions.

Our goal when we incorporated is the same goal as it is today and into the future; make high quality websites at rates that any sized business can afford.
We have not used advertising at WebWise, but we are as busy as ever.  We continue to grow with the help of word of mouth from satisfied customers.  We want you to work with us because you believe in us and the exceptional website design  and other solutions we provide.